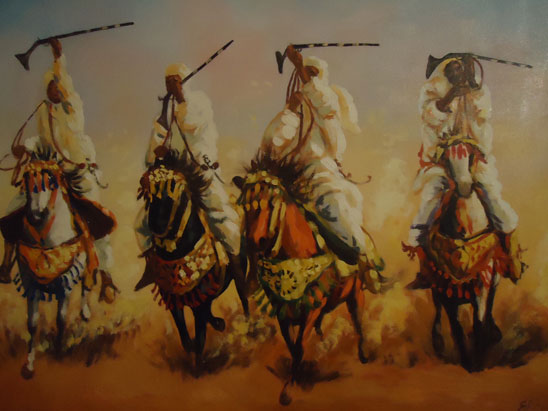 IMPERIAL CITIES
FÈS + MEKNÈS + RABAT + CASABLANCA + MARRAKECH
We'll drive you through Fez, the heart of the religious and cultural life in Morocco, heading west to Meknes and its amazing Palace of Sultan Moulay Ismail, cruising to Rabat for some exquisite monuments and 12th century Old Medina

A quick glance of Casablanca's Hassan II mosque, and finally Marrakesh, the southern capital and the called "Red City and it's never ending street markets".

Programme

• Fès – 2 nights
• Meknès – 1 night
• Rabat - 2 nights
• Casablanca visiting Hassan II mosque at Seaside
• Marrakech – 2 nights

Fès
Fez is one of the largest living medieval cities in the world Its narrow alleys and streets along with medieval looking Islamic Schools, restaurants, workshops, markets, shops and ancient palaces do make something special although chaotic to experience. Fez, the capital of the North was funded a few years after the Arabs came to this region. Around 800AD, King Idriss II continued his father will of building a new bigger capital city, so Fez was born and grew from a modest Berber town to a considerably residential and commercial centre with the arrival of 8000 Al-Andalusian families that quickly mixed along some Arab families that came from Qayrawan in Tunisia.

Fez as a lot to offer. You can experience different monuments and Royal Palaces, narrow streets with local bazaars and shops, you can visit the city's ancient leather dye pits and tanneries and get lost in is Old Medina.
Meknès
Another of the Moroccan Imperial Cities almost 100km West of Fez. Meknesis the more laid back of the Imperial cities and reflects its heritage as once the centre of the Moroccan Sultanate still seen in the several Palaces and castle walls around the old Medina. The Berber tribe of the Meknassis first moved to the region around the 10th century but was only around the 17th century that Meknesstart gaining some more respect as an Imperial city when the Alawite dynasty here established the country's capital under the power of Moulay Ismail. In 1755 Lisbon's huge earthquake gave Meknesa strong shake and many of its monuments were for ever lost.
Rabat
This great capital is a very interesting point to escape all other Imperial cities hassle and hustle. Rabat combines very well new modern cosmopolitan way of living with ancient palace and old Medinas inside castle walls facing the Atlantic coast. Rabat has a lot to offer and you'll see plenty starting from the beautiful palaces and Mohammad 5th Mausoleum, to the Old Kasbah de Oudaias and its Andalusian Gardens.

Rabat has ancient settlements since the Phoenicians and Romans and only by the 10th and 12th century with the arrival of Almohads that's the city started to get some size and more importance. From here, Yacoub Al-Mansour started his Iberian Peninsula Conquer and a few years later with its success, Ribat al-Fatah aka Rabat gained great prosperity. Rabat was Morocco's capital for several times until when the French decided to change the government from Fès to Rabat.
Marrakech
Marrakech is the capital of the South. The wonder of many travelers than even with lots of tourist activity still remains special and unique. Marrakesh was in history for 2 times the capital of Morocco and actually gave the nowadays western name of Morocco. Marrakesh was founded in 1062 by Almoravid Sultan Youssef Ben Tachfinand, and quickly became very prosperous and one of the most important Islamic cultural and artistic centers as it was expanded after the conquest of Spain by the Almoravid Sultan. Marrakech offers a lot to travelers and Arrahla Expeditions recommends at least 2 full days in this thrilling town. Its famous square, Djeemaa Elfna is one of its main attractions and is a mixture of restaurant stands along with snake charmers, monkeys, acrobats, fire blowers, loud live music and endless Souq gates. Indeed a must while in Morocco
Note:
The order of the visit changes and depends on your arrival point. If you arrive in Marrakesh, the circuit will start differently than if you arrive in Casablanca or in the northern border with Ceuta.
To get answers to your questions click on QUESTIONS AND ANSWERS
Circuit 8 days/7nights
Rates:


2 pax : 735€ per pax.


3 pax : 590€ per pax.


4 pax : 520€ per pax.


5 pax : 480€ per pax.

The program includes:


Airport welcome service at Marrakech Airport and hotel transfer
7 nights  accommodation in 3*** hotel, double room with half-board
An individual 4x4/ pick up car with English speaking driver-guide

The program does not include:

Personal expenses.
Extra meals & drinks.
Insurances or cancellations.
Flights

OTHER CIRCUITS : ATLAS MOUNTAINS - ATLANTIC COAST- UNESCO SITES - OASIS ET KASBAHS - IMPERIAL CITIES